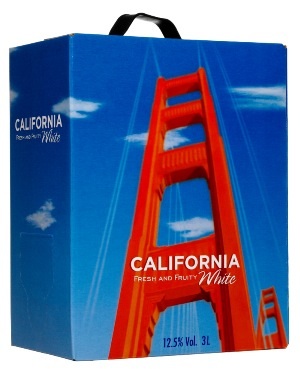 The 3 liter boxes of the wine sold as California White are no longer available at Sweden's state monopoly liquor stores, the only place you can buy wine over the counter in the country. This is sad because it was a decent and inexpensive table wine from California.
Not a great wine for weekend parties, but a nice wine for drinking at dinner.
Not long ago this was described as the stores' most popular product. Yesterday I was told in a store that it had been removed because there was so little demand.
What happrned? At the height of its popularity the wine had a different name. It was called Golden Gate. But a company in California sued over name infringement. The weird thing was the company was not called Golden Gate, it was called Golden State.
I don't know, but I wonder if the Swedish judge just didn't understand the difference?
Otherwise it was the same wine in the same box, with a picture of the Golden Gate Bridge. But obviously California White didn't give the same feeling.
While the 3 liter boxes are off the shelves, the smaller 750 ml cartons remain, at least for the time being. And the large boxes remain in Systembolaget's catalog, so they can be ordered. Right now that means pick up in a store, but within the next two weeks Systembolaget is opening up its home delivery service.
The delivery cost is excessive, apparently part of their mission to discourage alcohol consumption while holding the monopoly on its sale. But eventually one might be able to get a bunch of boxes of California White delivered to your door.