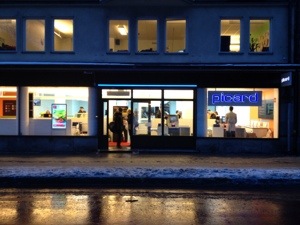 A welcome little bit of France has arrived in Stockholm.
I didn't post much during our nine months in Strasbourg. I've now been back in Sweden as long as I was away (which seems amazing), and I should have taken the time to offer some insights about the two countries, or at least new insights about Sweden.
Hasn't happened, but now that I have the leisure of a vacation in California, I have time to write something I've wanted to post for a couple of weeks. Picard, one of our favorite stores in Strasbourg, has come to Sweden!
Picard's concept is to sell only frozen food, and they have an amazing variety. I shopped there almost every week in Strasbourg, and it was thanks to them that we had a Thanksgiving turkey.
The incredible thing is that the first Swedish store, on Karlavägen in central Stockholm, is virtually identical to the Strasbourg store. Similar lay-out, same white freezers, and the same great selection. It was very nostalgic shopping there.
It's a bit unfortunate they opened in the middle of the concern over horsemeat, people are a bit leary of frozen meat products right now. But presumably the scandal will be resolved and Picard will become a permanent feature in Sweden.
We have so much from the States, it's nice to experience a bit of globalization from somewhere else.