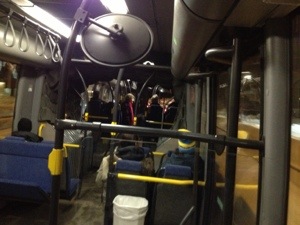 I had an amazing bus adventure this morning, my local bus taking around eight of us on an off the route tour.
Stockholm is experiencing what is called "snow chaos". It snowed so heavily yesterday most buses were cancelled. After work, I walked to the closest subway station, and got into the most jammed metro car I've ever been in, as the trains were running every 10 minutes.
At Ropsten there were no buses. With many others, I walked over the old bridge (the one some want to close), then on to Lidingö Centrum and a rest stop at the cafe there. Took 20 minutes, as did my walk from there home.
This morning the buses were supposed to be runnng, but in case of delays, I went out to take an earlier bus. We're the third stop from the end of the line (in the other direction), and those of us waiting were suprised to see the bus we were supposed to be on go by in the other direction, four minutes after it was supposed to pick us up.
Ten minutes later we were still waiting (much longer than it should have taken to drive to the end and back to us). When one of the big "accordion" buses drives up in the other direction, the driver stops, and yells out the window that we should get on.
We do, and he drives to the end stop, where he can't turn around because another bus is waiting there to depart. So he drives ahead, off the route.
We swing onto the main road across the southern part of the island and turn into an express with just us eight passengers in that huge bus.
Ten minutes down the road, when it looks like we might just be heading straight for the bridge, he hangs a right at City Hall, and pulls into Lidingö Centrum, where one person gets off (no one gets on).
Then off again, not stopping at the final two stops, over the bridge and into Ropsten, where a train arrived a couple of minutes later.
Writing it, it doesn't seem so wild, but it was an adventure in the dark and the snow, in a bus that went off the map.