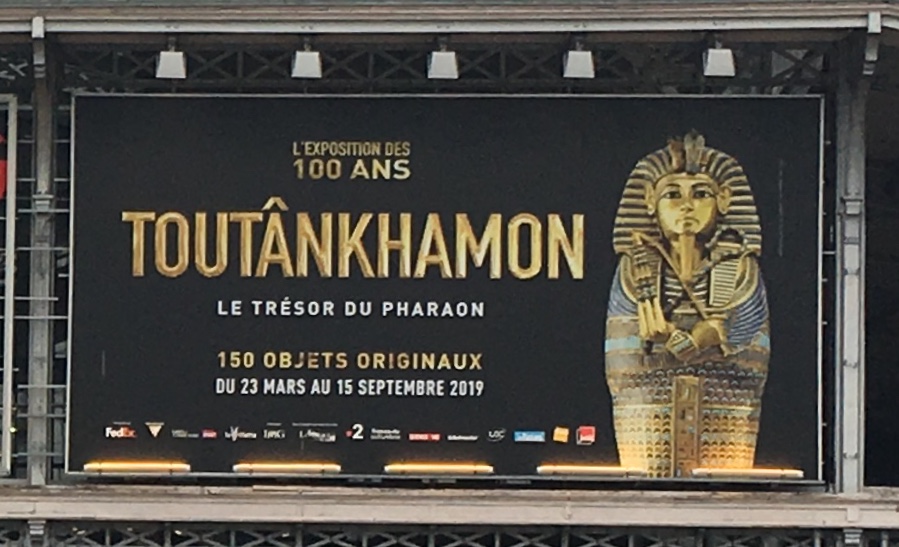 November 2022 marks 100 years since Howard Carter's amazing discovery of the intact tomb of Tutankhamun in Egypt's Valley of the Kings. To mark the centenary, the collection is due to move into the new Grand Egyptian Museum, currently under construction near the Pyramids in Giza. During the period before the opening 150 objects from the tomb (many never shown outside of Egypt before) are currently on a world tour. After six months in Los Angeles, on March 23 they went on exhibition at the Grande Halle de La Villette in the outskirts of Paris.
I saw the exhibition last week, and it is indeed filled with "wonderful things", and is definitely worth seeing. As might be expected it was very crowded, even six weeks after opening. But I was disappointed that several objects I had expected were not on display. No canoptic jars, no throne (just a smaller travelling throne), no chariot. Most disappointing of all, no gold mask! Having seen the mask at the de Young Museum in San Francisco in 1979, I had taken it for granted it would be included.
Nevertheless, the 150 objects on display are stunning. The giftshop was a bit of a disappointment, mainly cheap things and over-priced jewelry (as well as a 60 euro catalog authored by Zawi Hawass). The selection of t-shirts was limited, and there were no posters on sale at all, very surprising, as there is an exhibition poster as a quick Google search reveals.
The final day of the exhibition in Paris is September 15. It then moves on to the Saatchi Gallery in London, where it opens November 2, and continues until May 3, 2020.